Finnish-ish Salmon Soup in IP
Tonight's dinner was inspired by the desire to make a one pot seafood dish, a craving for soup, and a chance encounter with a recipe for a Finnish salmon soup called Lohikeitto.
Not finding any fish broth in the kitchen, I decided to cook the salmon skin with my potatoes.
I cubed the salmon and set it back in the fridge.
I prefer to peel celery for soups, and finely mince my garlic.
The end result was a very pleasing salmon and broccoli soup.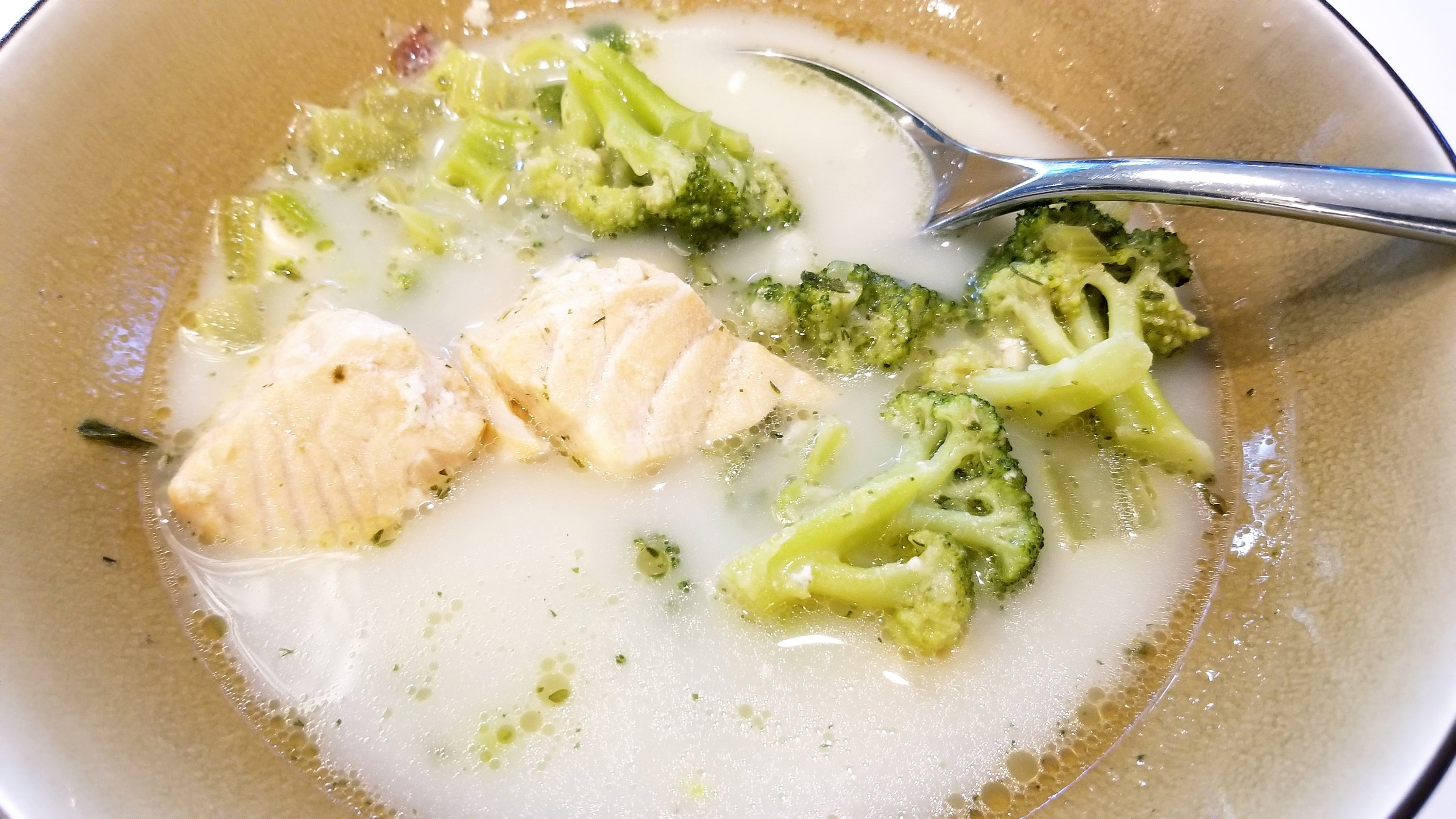 Recipe as I made it:
1 lb fresh salmon – skin separated and rest of the fish cubed in large chunks
1 small head of broccoli, cut into florets (stalks chopped up small)
1 scallion, finely chopped
2 red potatoes, peeled & cubed
2 large garlic pearls
3 stalks celery, peeled (yes) and chopped
1/4 cup heavy cream
4 cups vegetable (or chicken, or fish) broth
Juice of 1/2 lemon
Herbs to taste (I used a fish seasoning mix with parsley, thyme, dill, lemon pepper)
More dill
Salt & Pepper to taste
Add the cubed potatoes, salmon skin, celery, garlic, half the herbs, and 2 cups broth to the pressure cooker. Cook under high pressure for 8 minutes. 5 minute release.
Transfer half the potatoes to the blender, carefully avoiding celery or fish skin. Add remaining 2 cups of cold broth, blend. Add back to pot.
Add the broccoli, cubed fish, dill, rest of your seasoning, S&P, and scallions (except the very green tips) to the pot. Pressure cook for 2 minutes. Natural release.
Remove the fish skin. Add the remaining green scallions, cream, and lemon juice. Adjust seasoning to taste.
---