Thai Rice Soup with Pork Meatballs, Instant Pot
I recently bookmarked this recipe after seeing one of my friends rave about it on social media. It sounded perfect. Growing up as a child in India, congee (or kanji) was a comfort meal made for the ailing, so it took me a while to welcome it into the world of healthy-person-eating. I'm glad I did!
My new motto is to try recipes true to how they are written. Once I've done that, I allow myself to modify them as I please on the second go around. Unless I find an obvious improvement that I would kick myself for not making the first time. That's my way of saying OKAY, I CHANGED IT!
The original recipe is available here, published by NYTimes.
This recipe is almost perfect, but read on for what I changed, what I wish I had changed, and what I will need to modify in my IP process.
Change #1: Congee base. I added a 1/2″ knob of ginger, grated, while cooking the rice. This was a very good change indeed.
Change #2: Cooking process. I made a few changes to the process to accommodate cooking in the Instant Pot. Learn from the success as well as the failure 🙂
I pressure cooked with the "Porridge" setting, using 4 cups chicken broth & 2 cups water.
I decided this wasn't enough. So I added 2 more cups of liquid, set it to pressure cook for 10 minutes, and took my son swimming.
Unfortunately, this second step was a misstep. Since the porridge was already thick, it couldn't build enough pressure and it ended up catching on the bottom. No bueno, despite the great consistency. Lesson for next time: Do it in one shot, with only 7 cups of liquid in all (requires way less in IP than stove top cooking). Set it to cook under high pressure for 45 minutes. Natural release.
Change #3: How to cook the eggs. Once the meal was made, I added eggs straight into the IP and allowed them to poach there for 5 minutes, like I would do with a shakshuka. The eggs were perfectly cooked.
Change #4 (what I wish I had done): Meatball taste & making: They were a little bland for me. Next time I will be adding some ginger, lemongrass, and a pinch more salt in the meat to get it to be more flavorful. Additionally, since it takes a while to roll & drop so many meatballs, the first few are overcooked by the time the last ones get dropped. I will keep them all rolled & ready, and drop them into the pot in quicker succession.
We've enjoyed on its own, as suggested. Also makes a great leftover, re-heated with a fistful of shredded spinach leaves.
Process pictures: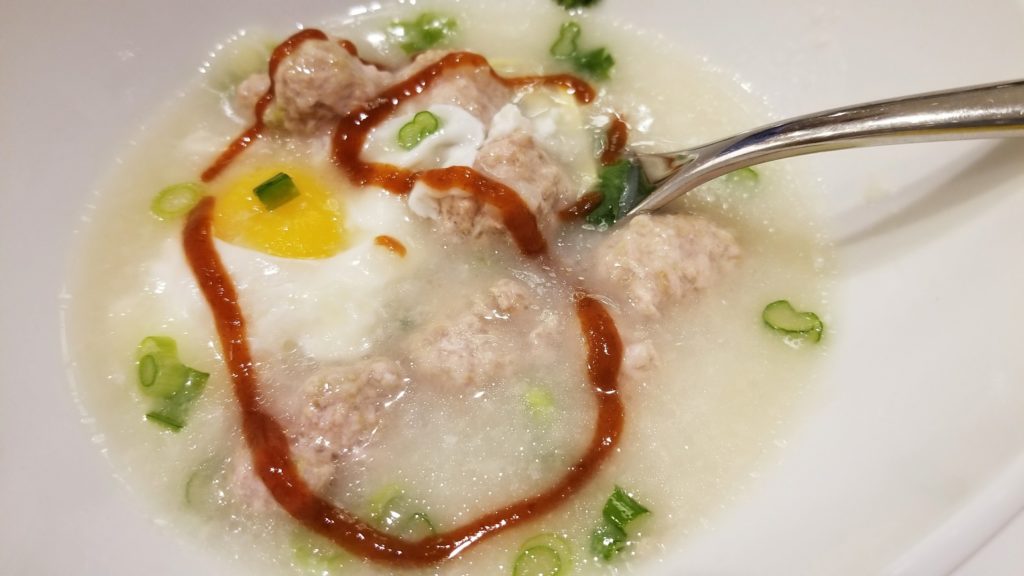 ---